Thrust roller bearings can be classified into cylindrical roller bearings(80000 type),thrust taper roller bearings(90000 type),and thrust spherical roller bearings(29000 type).they are separable bearings , greater rigidity , taking small space, bearing higher axial load and have low sensitivity to impact load.they permit low rotating speed,normally used in the workplace where thrust ball bearings can not be applied.
Thrust cylindrical roller bearings and thrust taper roller bearings can only bear one-way axial load and limit the one-way axial displacement.
Our thrust roller bearings mainly use steel or brass machined solid cage.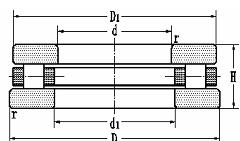 Dimensions
Basic load ratings
Dyc stc
Cr Cor
Old Model
New Model
Weight
d
D
B / H
mm
mm
mm
KN
 
 
kg
260
360
79
1045 4170
9252
81252
26.4
 
 
 
 
 
 
 
500
670
135
3400 17600
92/500
812/500
153
 
 
 
 
 
 
 
530
640
85
1739 9920
91/530
811/530
57.8
530
710
82
2280 17800
75492/530
872/530
96.6
 
 
 
 
 
 
 
560
750
150
3900 20800
92/560
812/560
198
 
 
 
 
 
 
 
600
860
125
3870 12980
5497/600
817/600
264
620
700
50
 
 
JY-9-03
75
670
900
103
3530 26500
75492/670
872/670
200
 
 
 
 
 
 
 
710
850
63
1440 13660
75491/710
871/710
79
 
 
 
 
 
 
 
800
950
90
1360 9440
90091/800
891/800
105
 
 
 
 
 
 
 
850
1000
67
1864 17480
75491/850
871/850
97.1
850
1000
120
3347 22152
91/850
811/850
177.2
 
 
 
 
 
 
 
900
1180
125
5300 50459
75492/900
972/900
386
 
 
 
 
 
 
 
1060
1400
155
8950 79390
75492/1060
872/1060
689
 
 
 
 
 
 
 
1180
1325
88.5
4430 21700
97/1180
817/1180
173
1180
1400
 
4430 48665
75491/1180
871/1180
311
 
 
 
 
 
 
 
1320
1700
175
10300 105400
75492/1320
872/1320
105
[1]