Cylindrical roller bearings belong to the separate type bearings,whose roller and raceway is linear contact and whose radial load capacity is greater applying to heavy load and shock load and high speed conditions.the mounting and dismounting of such bearings is more convenient,when the requirements of inner and outer ring interference fit ,its advantages are demonstrated .this bearing can be classified into single-row ,double-row ,four-row cylindrical roller bearings according to the rows of rollers. In addition ,there are Cylindrical roller bearings with a full complement of rollers and other arrangements,one of which is the most widely used --single row cylindrical roller bearings with cage.
.
Four-row cylindrical roller bearings has the advantages of larger radial carrying capacity,high precision of rotating,convenience of mounting and dismounting ,but it can not withstand axial load.because of the inner ring without ribs ,inner and outer ring components can be installed( with full sets of rollers and cages). This bearings can be classified into FC type ,FCD type and FCDP type,mainly used in the heavy machinery (hot and cold roller mill,bloomers and other heavy machineries )as working roll and backup roll .
cylindrical roller bearings with Full complement of rollers have two types: single-row (NCF) and double-row (NNCF) full complement of roller cylindrical roller bearings because such bearings have no cage and have larger number of rollers, their carrying capacity is large,but the high speed performance is poor,generally used in low speed and heavy load application.
The cage of cylindrical roller bearings ,when its outer diameter D≦400mm,generally use pressed
steel plate (or belt) cage,when D﹥400mm ,use steel or brass machined solid cage;four-row cylindrical roller bearings use brass cage or pin column cage.
FOUR ROW CYLINDRIACAL ROLLER BEARING d150-180mm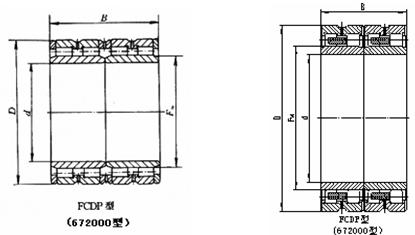 Dimensions
Basic load ratings
Dyc stc
Cr Cor
Old Model
New Model
Weight
d
D
B
mm
mm
mm
KN
 
 
kg
150
230
156
815 1660
672730
FC3046156
23.5
150
230
156
910 1900
SFC3046156
23.2
 
 
 
 
 
 
 
160
225
168
1950 2300
 
FC3245168
-
160
230
130
640 1610
 
FC3246130
18.7
160
230
130
720 1500
 
SFC3246130
18.5
160
230
168
820 2220
672832
-
24.2
160
230
168
890 2270
 
FC3246168
22.2
160
230
168
910 2070
 
SFC3246168
22
160
240
124
670 1500
672732k
FC3248124
20.6
160
240
124
780 1800
 
SFC3248124
20.6
160
240
168
955 2330
672732
FC3248168
27.6
160
240
168
955 2330
 
FCD3248168
26
160
260
168
955 2330
 
FC3252168
38.2
 
 
 
 
 
 
 
170
230
130
680 1700
 
FC3446130
16.3
170
230
180
700 2000
 
FC3446180
22.7
170
240
130
830 1800
 
FC3448130
-
170
250
170
1000 2400
672734
FC3450170
29.9
170
250
170
1050 2700
 
SFC3450170
29.5
170
260
120
880 1770
672734k
FC3452120
24.2
170
260
120
870 1770
 
FC3452120
-
170
260
150
860 1900
672834
FC3452150
30.2
170
260
170
1080 2460
 
FC3452170
34.9
170
260
170
1050 2300
 
SFC3452170
-
170
260
225
1270 3350
 
FC3452225
-
 
 
 
 
 
 
 
180
250
120
600 1580
 
FC3650120
19
180
250
130
740 1750
 
FC3650130
20.7
180
250
156
710 1900
 
FC3650156
24.7
180
250
156
900 2400
 
SFC3050156
24.5
180
260
120
690 860
672836
FC3652120
20
180
260
124
720 1650
 
FC3652124
22.6